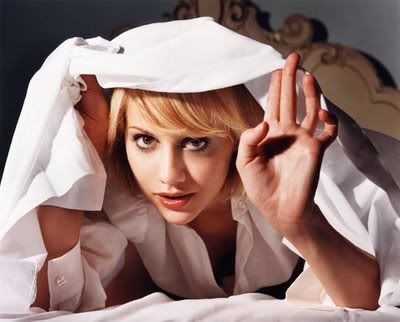 Actress Brittany Murphy died Sunday morning from a cardiac arrest.
I can't believe this. She was one of my favourite actresses and just 32 years old - seven years younger than me. Awful, awful news.
I loved her natural charisma, charm and the quirky style she brought to many of her roles with Clueless being the first thing I saw her in back in '95 playing new girl Tai. I was an immediate fan. I remember her popping up around the same time in an episode of SeaQuest where the ship goes back in time to the Cuban Missile Crisis. She played the teenage love interest for the shows teen star Jonathan Brandis, also sadly no longer with us. She was great. It is one of the very few episodes of SeaQuest I own. Brittany then starred in possibly my favourite role of hers as Deliverance Bodine in the fab direct to video action movie Drive. Deliverance is a rather odd girl. She's kinda crazy, rather risqué but also very cute and funny. Every second she is on screen you can't help but smile. Brittany then starred opposite Christopher Walken in Prophesy 2. She made a splendid double act with Walken in what was an otherwise forgettable film. Girl, Interrupted was next. An excellent film filled with many wonderful young actresses. Brittany played Daisy Randone, a sexually abused girl who comes to a very sad end. And Brittany did the role proud. Angelina got the Oscar (and she was brilliant) but it was Daisy's story that did it for me. Watch the great scene between Angelina and Brittany embedded below. After that came a total change of pace with Cherry Falls, a quirky teen slasher flick that suited Brittany's style down to the ground. A fun flick and she was most entertaining in it. There followed the Michael Douglas thriller Don't Say a Word, Summer Catch and, of course, 8 Mile. Then came Just Married, an above the title starring role opposite Ashton Kutcher. However it wasn't until she took the role of Shellie in Robert Rodriguez's amazing Sin City that I got to see her again in something I really liked. Post Sin City she was constantly busy in a variety of roles in film and TV including her voice work in King of the Hill and Happy Feet. She had only recently completed a role in the upcoming Sylvester Stallone/Jason Statham/Jet Li all action extravaganza The Expendables. I'd been holding out hope that she would also get to be in the still gestating Sin City 2. Sadly, that will now never happen.
Brittany Murphy was certainly a beautiful girl. She was also a very talented actress with a unique style and a gift for comedy. She always brought a smile to my face or in the case of Girl, Interrupted a tear to my eye.
My thoughts are with her husband and family at this awful time.
Girl, Interrupted - Lisa antagonises Daisy
Drive - a great action sequence made all the better by Brittany being bonkers and cute. At 2:38 "Are you outta your mind?" "Okay." LOL