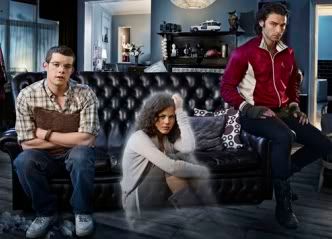 Being Human: Series 2
The awesome supernatural house-share drama and my favourite TV show of last year returned for series 2 last night. A vampire called Mitchell, a ghost called Annie and a werewolf called George all live together in a shared rented house in Bristol and together gain mutual support in circumventing their supernatural natures so as to live like normal regular everyday people, to just be…well…human.
After the battle against the vampire revolution and the defeat of vampire leader Herrick at the end of the last series, only a short time has now passed. About a month to be precise. And there is fallout to deal with including the exact lycanthropic status of werewolf George's girlfriend Nina and the power vacuum amongst the remaining vampires after Herrick's death. Plus there is a group of humans doing nasty secret experiments on supernaturals, one of which results in the particularly gruesome death of a werewolf in a hyperbolic chamber. And then there's the arrival of two new vampires in town with their own weird agendas. They are a married couple of which the husband seems to want to taunt and torture Mitchell and George for Herrick's death while his wife apparently just wants to make dirty vampire/werewolf sex with George while also looking to kill off any living remnants from her human past. Yep, the stage seems set for a very interesting and hopefully bizarre new series of Being Human.
This first episode was great. It did a very good job reintroducing the characters and setting up ideas and threats for the new series. The main focus of the story was about Nina, George's spiky nurse girlfriend who he accidentally scratched in the last episode of series one. It was about her fear that she is now a werewolf too and how she'd deal if she is one, and how George would deal with being the one to have cursed her. The episode was also about the three main characters looking for new meaning and purpose in their lives. Annie the ghost has become more confident and less afraid. As such she's now visible to everyone and almost 100% corporeal when she wants to be. So much so that she goes and gets herself a job as a barmaid in a local pub. It's a crazy idea - a ghost getting a job. But it is very funny and Lenora Crichlow as Annie is so sweet and charming that you just go with it. Her excitement over finding a new lease of life in death is infectious. Meanwhile Mitchell the vampire makes a connection with a new female member of staff at the hospital where he works in a cute scene involving pet goldfish. And then there is George the werewolf. Previously, George was very ordered and reticent about life in general as well as hateful of the monster he'd been turned in to. But now he seems to have embraced his werewolf nature despite still protesting how much he hates it. Those protestations sounded a little hollow with his temperament appearing rather arrogant, cold and aggressive. He even went and got jiggy with the naughty vampire lady…something he'd never have done before. But then I guess it was the night before the full moon.
Writer/creator Toby Whithouse provided another great character based/led script that was as rich in human themes as it was in fantasy plot and horrific incident. The characters were all great and the dialogue funny, sharp and meaningful. Toby can write great lines just as well as any top US writer. I especially loved his little nod to Buffy when Annie, trying to console Nina over her fears of being a werewolf, said: "There was a werewolf in Buffy called Nina." Nina replied that she never watched it. Annie then said: "Yeah, well, I stopped watching it when I started living it." Great! Although being a Buffy geek I have to point out that Nina the werewolf was actually in season five of Angel and not in Buffy at all. But appreciated all the same Toby :D
And talking of werewolves…the beasties in series 2 look even better than they did last year with the transformations still up to the same high standards. Very creepy in An American Werewolf in London style. Wicked!
All in all a great start to (hopefully) a great second series. Bring on episode 2 already.
Two strangers arrive…